Vince Papale: The Speaker
"Uplifting … motivational … inspirational … timely … friendly."
1976 was a time when Philadelphia fans were buried in 11 years of defeat, when Americans were battling the lingering effects of Watergate, the Vietnam War, and a sweeping energy crisis. Ordinary people appeared badly in need of a champion from their ranks, and this local schoolteacher/coach answered their call. Vince Papale did the unthinkable and took on an insurmountable challenge making the Philadelphia Eagles.
Re-inventing himself from a 30 year schoolteacher, who did not play football in college, to an NFL star, Vince Papale defied the million to one odds against him. Not only did he make the team but he was voted by his teammates Captain of the Special Teams and most recently was selected by the fans as the best Special Teamer in the Eagles 75 year history. So incredible is his journey that Disney felt compelled to tell his Invincible story on the silver screen. Now, Vince has evolved into one of the most sought after speakers in the USA.
As a top tiered speaker he has wowed audiences with his energy, enthusiasm and wit. Customizing each and every presentation he comes prepared with his passion touching the heartstrings of anyone who has heard him speak. As a cancer survivor he knows what it's like to fight and overcome adversity. Vince's tale is much more than a football story and when he tells it his audience comes away ready to take on any challenge thrown at them.
Speech Topics
Health & Wellness
"From Invisible to Invincible"
One of the biggest hits Vince took was when he found out he had colon cancer. Now "green and clean," he raptures audiences with his story of his emotional journey on the road to recovery. He also shares with us his having to deal with mental illness in his family when he was a youngster and provides some coping tips. Now a spokesperson for cancer awareness, he wows audiences with his understanding, compassion, and humor when dealing with these life obstacles. From caregiver, to patient, to survivor you will feel ready to tackle any challenge after hearing Vince speak about one of his most passionate causes.
Click to see him in action on this topic
Higher Learning & Education
"Educate Yourself Into the Endzone"
The untold story in Invincible is that Vince was a full-time teacher and coach at his high school alma mater, working on his master's degree, when he chased his wildest dream. Vince skillfully weaves his amazing story, with a nice blend of humor and passion, sharing his playbook for success mixing in education as the main ingredient. He relates his "Bucket of Crabs" story of how many of his peers were rooting against him to succeed and how, if it weren't for his teacher, coach and mentor, he never would have made it. He shows the way for his audience to grasp that "the more you learn the more you earn!"
Leadership
The "Papale Playbook"
In Vince's energetic, enthusiastic, and passionate style, listeners get glimpses of what it took to go from a season ticket holder to Captain of an NFL Team. He shares his Leadership Playbook with his audience as well as telling stories about the people that impacted him, from some of sports coaching greats to his mentors. He took the opportunity of a lifetime and ran with it… lifting a team looking for a leader and a city starving for a hero. From the bleachers, as a 10 year season ticket holder to the Captain of an NFL Team, Vince relates how it was done with his Papale Playbook and how you can lead others to take it to the next level.
Click to see him in action on this topic
Motivation
"Hold Fast to Dreams"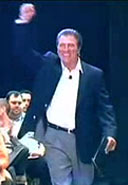 Going from being called a loser with no pedigree and no college football experience to Captain of an NFL Team is the stuff that dreams, and movies, are made. Using video clips from Invincible, Disney, and ESPN, Vince, a tremendous story teller, shares his tips on seizing opportunities, overcoming odds, fulfilling potential and taking it to the highest level. His energy, passion and humor will keep the audience on the edge of their seats. He made 2nd effort a part of his personality and got the ultimate last laugh on those who doubted him. He will bring people from tears of sadness to tears of joy and bring them to their feet as they feel his journey is their trip as well.
Click to see him in action on this topic
Team Building
"Make Your Teams Special"
From Team Building to the morphing of Mark Wahlberg, from a Hollywood to an NFL star, what does it take to get your team to the next level? Not only was Vince an accomplished athlete he was also a successful teacher and coach and he shares with you his training tips for reaching one's full potential. What does it take to inspire your Team to pay the price to make their goals and dreams come true? Let Vince inspire and train your group to achieve heights never reached before. Strap on your helmet, get your game face on, and get ready for the experience of a lifetime.
Click to see him in action on this topic